Joy Seeker Badge, Step 1
What brings you joy? Katie and I have been reading and thinking about joy more deliberately over the past year. This has led me to pay attention when I feel joy and take note. In this post, we'll share with you the science of joy and happiness including what brings most people joy, and then we'll provide a couple lists of things that bring us joy in the hopes that you will be inspired to find more joy in your lives.
We are working on our Joy Seeker Badge. Over the next couple of weeks, we'll share research on joy and happiness, take you along with us to a workshop on bringing more joy into our homes, and create a few DIY joy projects.
This post is part of our Joy Seeker Badge. You can learn more about the badge and how you can earn it in the gray box below.
Earn the Joy Seeker Badge
If you are interested in earning the Joy Seeker Badge yourself, you can see the Joy Seeker Badge Guide, or "recipe" for the badge here. Each Badge Guide contains three steps to be completed in order to earn the badge. These steps can be done on your own, but we encourage you to grab a few friends and learn together!
Step 1 is always focused on research. Look up the topic online, watch videos to learn a skill, or visit your local library. You can read about the resources and fascinating facts we found below.
The Science of Joy
Defining Joy and Happiness
Joy is an "intense, momentary experience of positive emotion" (Fetell Lee, 2018).
Joy is a high energy form of happiness.

Ingrid Fetell Lee
According to the Greater Good Science Center at UC Berkeley, happiness can be defined as life satisfaction, a trait, sensation, or emotion. Life satisfaction is captured by our overall wellbeing. When it is positive and we feel that overall our lives are going well, we experience a general sense of happiness. A happiness trait might be a tendency to be an enthusiastic person. In terms of emotion, happy people feel gratitude and pleasure. Happy sensations can be anything that brings about those emotions including feeling the warm sun on your skin or getting a nuzzle from your cat.
Scientists have been systematically studying happiness, gratitude, and other "positive psychology" topics for a much shorter time than you'd think. But in the last 15-20 years, research on happiness and joy has exploded. One of the most reassuring things scientists have found about happiness is that much of it is in our control. Only 10% is determined by our life circumstances. A whopping half is determined by genetics… but another 40% is based on what we do, everyday. I'll take 40% where I can get it! And do what I can to live a happier life.
Happiness doesn't just feel good, when people are happy, it bleeds into all parts of their lives. People who are happy live longer, are more successful, and are more creative and innovative at work. Happiness results in neurophysiological changes that are associated with less chronic pain and better physical health indicators like lower blood pressure. People who are happy tend to have better parent-child relationships and better marriages that are more loving and satisfying.
What Brings Most People Joy
Ingrid Fetell Lee is the queen of joy. I cannot recommend her book, Joyful, enough. In fact, we've recommended it twice on this blog! For example, here. Ingrid's research on what brings people joy has led her to identify ten aesthetics of joy.
According to Ingrid, these 10 aesthetics show a connection between feelings of joy and our surroundings in the material world. Joy is all around us, we just have to take the time to notice it. She describes her book as a field guide for spotting and savoring joy. She helps you know where to look based on what most people find joyful.
After reading her work and watching her Ted Talk (see below), I really did start noticing more joy in my day-to-day life. When I accidentally squeezed the dish soap bottle too hard and bubbles popped out, I stopped and watched them for a moment. I even popped a couple. At the Minneapolis airport I stopped dead in my tracks to admire the gorgeous tile work at the entry to the restrooms. I take note of colorful rows of flowers and twinkling lights in trees and on buildings. When walking by a playground last month, I took an extra moment to swing on the swings and revel in the feeling of playful joy in my stomach as I zoomed through the air.
At the start of her book, Ingrid asks a few questions to help readers start thinking about the joy they already have in their lives. She asks:
How often do you laugh?
Who are the most joyful people in your life? How often do you see them?
How often do you find joy in your work?
What activities bring you the most joy?
What are your "happy places"?
Looking for more joy inspiration? Check out the hashtag #joyspotting on Instagram to see images of places and things that make people around the world feel joy.
Gratitude
Gratitude is intimately linked to happiness. The Greater Good Science Center recently released six questions to ask yourself during quarantine to keep your spirits high. The very first one is about gratefulness.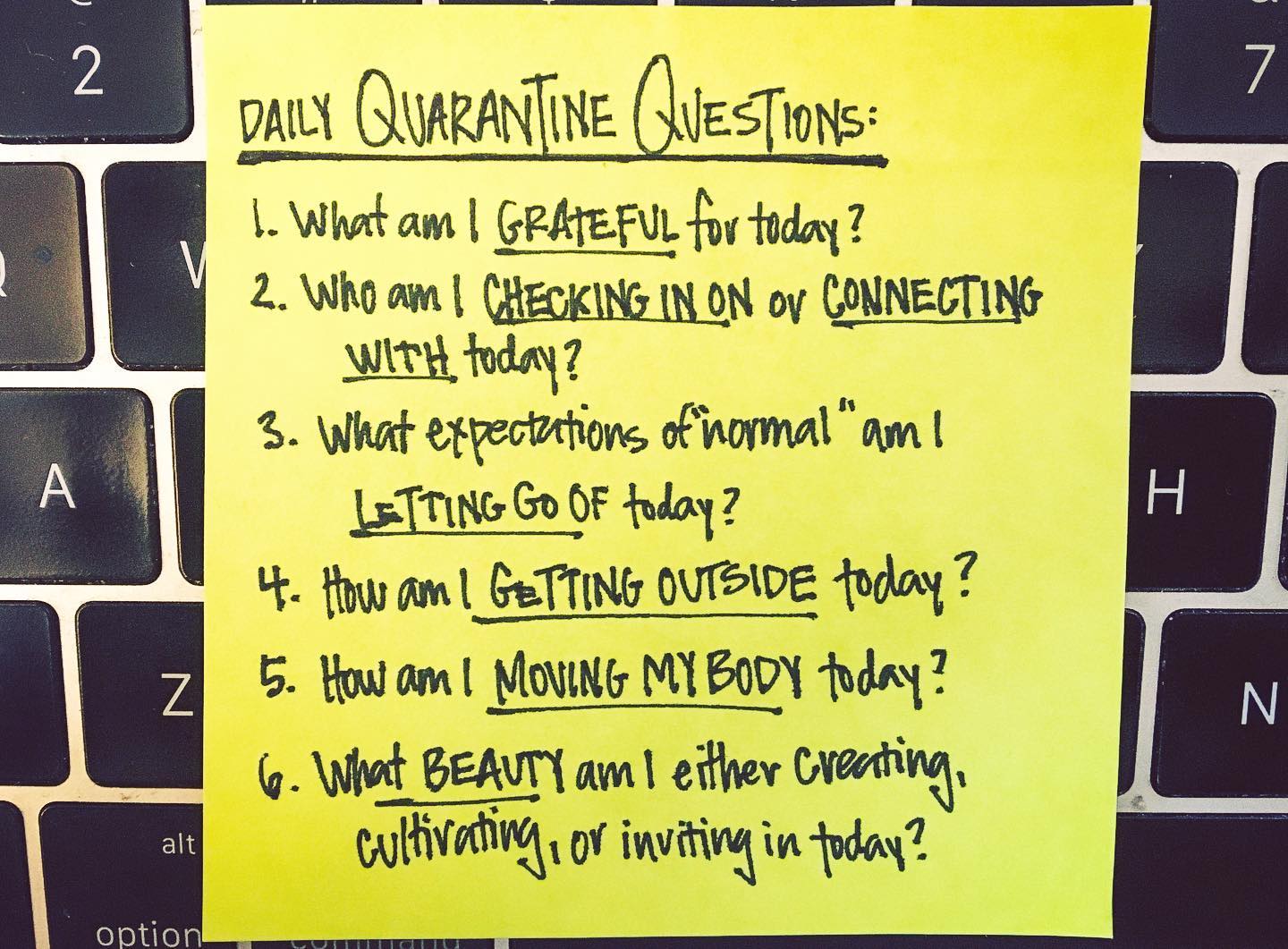 Gratitude journaling, for example, allows us to reflect on and learn from the good and the bad in our lives. Writing down or speaking out loud things we are grateful for helps us focus on the good and develop an appreciation for what we have. People who regularly express gratitude are happier and healthier!
Creativity
Art, color, and spending time in creative-mode brings joy and happiness. Research reported in the Journal of Positive Psychology found that engaging in creative activities, especially when doing more creative activities than you usually do, brings about positive emotions and can create an upward spiral of happiness and feelings of flourishing in life in the days following the activity.
The video below explains how art therapy is used to bring happiness and heal people.
What Brings Us Joy
We've been cultivating our own lists of what brings us joy, primarily in our Bullet Journals. We'd love to share a list with you with the hopes it will inspire you to create your own list you can go to when you need an extra boost of happiness. My list is focused on a specific aspect of joy: play.
Science of Joy Additional Resources
Gretchen Rubin is our go-to source of inspiration for happiness. We read her book, the Happiness Project years ago, then read Happier at Home. We highly recommend both. She also has a podcast called Happier that she creates with her sister Elizabeth we listen to weekly and love! Her blog/website is full of worksheets and tips and ways to boost your happiness, so go check it out!
The Greater Good Science Center is worth checking out. They have dozens upon dozens of happiness practices you can do linked to gratitude, mindfulness, resilience to stress, connection, and finding silver linings among others.
Join us for Part 2 of the Joy Seeker Badge as we continue our research about bringing more joy into our lives. We will look into how to make our homes more joyful by taking an online class. The class revealed the 5 secrets to a joyful home. We find out that what brings people joy is not necessarily high dollar decorative items.
We want to hear from you! What do you do to cultivate happiness in your life? What brings you a clear feeling of joy? Message us on Instagram or Facebook or drop us a line here.